South America Cruise Collections View Basket
To order this holiday brochure for FREE delivery to your home or computer, click the GET THIS FREE button.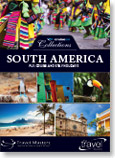 This brochure is no longer available on this website.
An inspired collection of hand-picked cruise holidays to South America
The ultimate guide to your perfect fly, cruise and stay experience | Chile | Brazil | Peru | Uruguay | Falkland Islands | Argentina | Antarctica | USA | French Polynesia | Ecuador | Colombia | Panama | Galapagos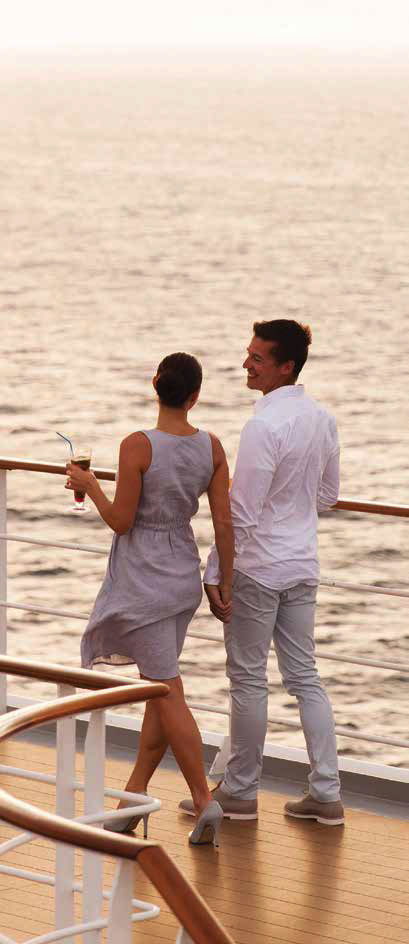 Travel Masters brings you this inspired collection of hand-picked, destination-specific fly, cruise and stay experiences. From bespoke, contemporary and family-friendly to all-inclusive luxury, this selection is your definitive guide to your perfect South America cruise holiday.
Why South America is one of the world's most spectacular cruise destinations
South America offers a unique experience for any traveller. From the Amazonian Rainforest to the glaciers of Patagonia, South America is home to some of the most spectacular landscapes in the world. Musical delights are plenty with each country known for their own rhythm and sound. Tango in Argentina or Samba in Brazil, there will be many opportunities to dance the night away.
Your Ultimate Cruise Holiday
This collection includes cruises of all styles and cruise lines, so that you can find exactly what you want. Just as cruise ships differ by size, the types of cruise lines themselves can also vary greatly in style. Each cruise line has a unique personality that will appeal to different lifestyles. Selecting the right one to match your personal preferences can mean the difference between struggling with unmet expectations and enjoying the holiday of a lifetime.
The cruise lines featured in this brochure include:
THE AZAMARA CLUB CRUISE EXPERIENCE
The elegant ships of Azamara have the feel of small boutique hotels and takes you to ports where larger ships won't fit. Azamara Club Cruises are best for seasoned travellers who wish to immerse themselves in rich historical and cultural experiences in unexplored regions – guests who want to enjoy the finer things in life and are looking for a small ship, boutique type of experience.
THE CELEBRITY CRUISE EXPERIENCE
A Celebrity Cruise lets you fully immerse yourself in culture, modern style and exhilaration en-route to your destination. Enjoy a premium at-sea experience where you're surrounded by chic, sophisticated environments. Celebrity Cruises are best for first-time cruisers, adults and families looking for a premium large-ship cruise with a variety of onboard entertainment and luxurious touches.
THE CRYSTAL CRUISE EXPERIENCE
Crystal Cruises consistently ranks among the top luxury cruise lines in the world and has been voted World's Best by the readers of Travel + Leisure and Condé Nast Traveller, more than any other cruise line, hotel or resort. Crystal Cruises are best for discerning adults and families wanting exceptional service, high-level enrichment programs and the opportunity to explore interesting destinations. Most guests are 55-plus, but Crystal is leading the way in catering for multigenerational luxury cruising by offering concessions for children sailing on select cruises, as well as dedicated facilities and programs for ages 3 to 17.
THE HOLLAND AMERICA LINE EXPERIENCE
Today's Holland America Line is still classic and premium, but energised with new ideas, offering expanded choices and experiences, spacious and comfortable ships and award-winning service. Holland America Cruises are best for guests eager to discover new places and different cultures, seeking memorable and engaging experiences in premium surrounds. The sophisticated traveller who appreciates the finer things in life.
THE LINDBLAD-NATIONAL GEOGRAPHIC EXPERIENCE
A Lindblad-National Geographic expedition is arguably the most exhilarating overseas adventure experience a person can have. Nothing else comes close to approximating its authenticity and engagement. Most guests are active and fit, in the 55-plus age range, and are looking for an up-close experience of pristine destinations, packed with wildlife, culture, and history.
NORWEGIAN CRUISE LINE EXPERIENCE
Feel Free to let inspiration guide you on your cruise holiday. With Norwegian your journey is just as exciting as your destination. Norwegian Cruises are best for adults and families who want a fun and lively cruise experience where there is more freedom and flexibility. Solo travellers who don't want to pay a single supplement (on select ships).
THE OCEANIA CRUISES EXPERIENCE
Oceania Cruises is the world's largest upper-premium cruise line with the finest cuisine at sea, award-winning itineraries and outstanding value. This is the cruise line of choice for travellers seeking a truly refined and casually elegant travel experience. Oceania Cruises are best for affluent, well-travelled adults who want a sophisticated experience and those seeking a country-club casual feel with upscale surroundings and amenities.
THE PONANT EXPERIENCE
PONANT designs itineraries that are rich in encounters and discovery all over the world. Their small size yachts are able to sail into unique destinations, mooring in the heart of secret bays. Ponanat Cruises are best for travellers who are after an authentic and sophisticated travel experience.
THE PRINCESS CRUISES EXPERIENCE
With the motto "Big Ship Choice, Small Ship Feel" Princess's ships offer all the deluxe amenities that you'd expect from a 5-star hotel. Princess Cruises are best for couples, families and older singles that prefer a large ship, an active environment with a multitude of entertainment and dining options.
THE REGENT SEVEN SEAS EXPERIENCE
Regent Seven Seas' luxury vessels are designed for guests numbering in the hundreds rather than the thousands, offering a more personal and intimate experience onboard. Regent Seven Seas Cruises are best for seasoned travellers, who are destination-oriented, enjoy the finer things in life and are looking for a small-ship, boutique style experience.
THE SILVERSEA CRUISES EXPERIENCE
Silversea presents sumptuous ocean-view suites and the luxurious freedom of an all-inclusive lifestyle. Distinctive European styling is reflected in every detail, from uncompromising service to exquisite gourmet dining. Silversea Cruises are best for seasoned travellers who are destination-oriented and expect the best of everything.
EXPLORE CHILE | Lima to Punta Arenas
TALE OF TWO CONTINENTS | Barcelona to Rio de Janeiro
SOUTH AMERICA PASSAGE | Rio De Janeiro to Santiago
SOUTH AMERICA PURSUIT | Cusco to Buenos Aires
CHILE & ARGENTINA | Buenos Aires return
SOUTH AMERICA | Buenos Aires to Santiago
ANTARCTICA PURSUIT VOYAGE | Buenos Aires return
CAIPIRINHAS & FINE MALBEC | Rio de Janeiro to Buenos Aires
CAPE HORN & BRAZILIAN ADVENTURE | Ft. Lauderdale to Santiago
TIERRA DEL FUEGO PASSAGE | Buenos Aires to Valparaiso
SOUTH AMERICA | Santiago to Buenos Aires
STORIED ISLES OF THE PACIFIC | Valparaiso to Papeete
ANDES & CAPE HORN GRAND ADVENTURE | Buenos Aires to Los Angeles
ARGENTINA & CHILE | Buenos Aires to San Antonio
SOUTH AMERICA EXPLORER | Santiago to Miami
CORDILLERA & ANDEAN SECRETS | Valparaiso to Quito
PORTUGUESE PURSUIT | Rio de Janeiro to Lisbon
SOUTH AMERICA, INCA & PANAMA CANAL DISCOVERY | Buenos Aires to Ft. Lauderdale
GALAPAGOS | Quito to Guayaquil
CHILE TO SAN DIEGO | San Antonio to San Diego
ANTARCTICA & CAPE HORN | Buenos Aires to Santiago
This brochure covers the regions and holiday types listed below. Click on the links to see more free travel brochures covering the regions and holiday types you are interested in.