North Korea Escorted Tour View Basket
To order this holiday brochure for FREE delivery to your home or computer, click the GET THIS FREE button.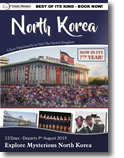 This brochure is no longer available on this website.
Great value, inclusive, luxurious small group tour with the experts
A Rare Opportunity to Visit the Hermit Kingdom on a Unique Escorted Tour
Departs Australia 9 August 2019 | 13 Days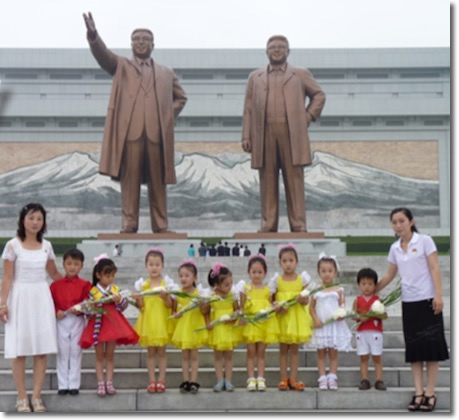 North Korea is by no means an ordinary tourist destination and unless there is a major change in the country's circumstances, visiting North Korea will remain something rarely available, and only for the fortunate few. Join Bob Malcolm, Managing Director of Travel Masters, on this great value, all-inclusive, small group escorted tour.
Many discerning travellers rank a visit to North Korea as their most interesting and memorable travel experience. Probably the most mysterious country in the world, sometimes known as 'the Hermit Kingdom', North Korea has historically been controversial and has shut out the rest of the world. Only periodically opening and closing its doors to foreigners, it remains one of the world's most inaccessible countries.
A look inside one of the most unique, socially and culturally interesting countries in the world… this is Travel Master's North Korea
Those given the opportunity to visit are not always able to see everything they may wish to see, and must be accompanied by a government tour guide (usually both pleasant and genuinely helpful) at all times. There are significant limitations for foreign visitors. Those who can accept these terms will have a fascinating visit experiencing a truly mysterious country and its unique culture, where total obedience to the state is mandatory.
Why Travel Masters
With over 20 Years' Experience, Travel Masters boasts an award-winning team of highly qualified international consultants trained to assist you in all your travel needs.
Having travelled most continents of the world and experienced a number of the most diverse cultural backgrounds known to mankind, they offer clients a personalised approach to booking holidays, with extensive personal knowledge and understanding.
Managing directors Beth and Bob Malcolm are champions of the travel industry, with collectively more than 25 years' experience. Beth is well recognised in the travel and tourism sector as the past National Vice-President of the Australian Institute of Travel and Tourism, and as the two-time winner of the Australian Travel Management Award.
Bob and Beth personally escort small groups to unique and culturally diverse destinations throughout the world, ensuring that each person on the tour has the experience of a lifetime. Whether it's travelling to tourism meccas or exotic islands, you will be guaranteed a well organised, well paced and memorable holiday.
Awards
Best Regional Travel Agency in Australia
Australian Travel Centre of the Year
State and National Awards for Excellence
Tour Highlights
Mass Games (Arirang Performance)

Panmunjom and the DMZ

Dandong

The Great Wall & One Step Across

Kim Il Sung Square

International Friendship Exhibition

Pyongyang Metro

The Children's Palace

USS Pueblo

Kumsusan Memorial Palace

Co-Operative Farms

This brochure covers the regions and holiday types listed below. Click on the links to see more free travel brochures covering the regions and holiday types you are interested in.