Expert-Led Archaeological Tours, Cultural Tours & Gulet Cruises View Basket
To order this holiday brochure for FREE delivery to your home or computer, click the GET THIS FREE button.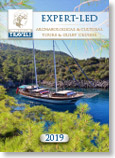 This brochure is no longer available on this website.
Expert-Led Archaeological & Cultural Tours & Gulet Cruises | Croatia, Greece, Italy, Turkey, United Kingdom, Ireland
Winner of Tour Operator of the Year Gold Award from the UK's Association of Independent Tour Operators, Feb 2018.
Exploring Tours | Walking Tours | Family Tours | Food Tours | Private Tours | Private Charters in Croatia, Greece, Italy & Turkey | Gulets Cruises in Croatia, Greece, Turkey & Italy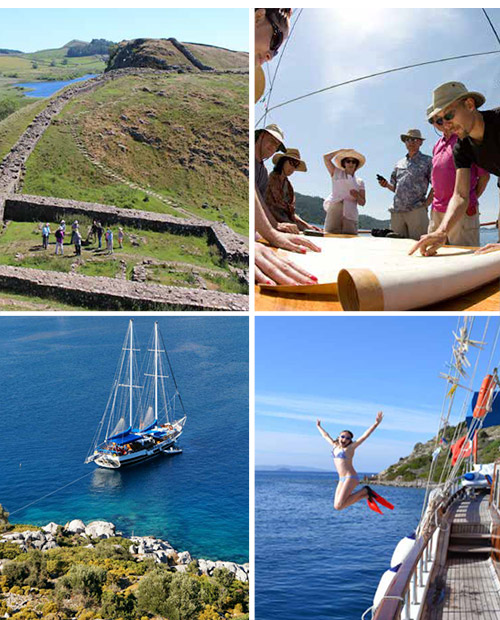 Peter Sommer Travels is a UK-based tour operator specialising in expert-led cultural land tours, gulet cruises and private charters.
WIth an intimate knowledge of the countries explored - their geography, history, people and more –  Peter Sommer Travels has created a rich and varied collection of escorted small-group tours with a difference.
Since 1996, Peter Sommer Travels has been exploring the epic landscapes and incredible history of England, Wales, Ireland, Croatia, Greece, Italy and Turkey, from Walking Hadrian's Wall to cruising the Amalfi coast and bay of Naples by gulet. Experience the glories of Roman fortresses, atmospheric abbeys and the most stunning castles. Sample the magnificent local produce in wonderful pubs and restaurants.
Attention to Detail
Peter Sommer Travels offers a select mix of small-group escorted tours, all of which have been carefully researched and meticulously planned.
"Fascinating, informative, amusing and memorable. An overall outstanding holiday" – Tony Graves, Australia.
The Personal Touch
Peter Sommer Travels strives for the very best in personal service and assures you of individual care and attention.
"The hospitality was exceptional, we felt like guests rather than customers."
Expert Guides
You will experience the advantage of travelling with expert tour leaders, archaeologists and historians. As well as being extremely knowledgeable, they are also great communicators, passionate enthusiasts and friendly hosts.
Beautiful Boats
Cruise in hand-crafted traditional Turkish gulets of the highest standard: stylish and characterful, with modern conveniences plus friendly and experienced crews. Alongside the scheduled trips, Peter Sommer Travels offers expert-led gulet charters for private groups, large or small.
Small Groups
All tours are with small groups of like-minded people – typically between 10 and 14 on gulet tours and between 10 and 18 on land tours – travelling in an easy-going informal style.
Value for Money - No Surcharges
Tour prices include almost everything except airfares, and guests say they are great value for money. The old adage 'you get what you pay for' is especially true when it comes to holidays and adventure travel. Peter Sommer Travels does not levy surcharges for fluctuations in exchange rates or fuel prices or for any other reason. The price of the trip is the price you pay.
Responsible Travel
These tours are holidays with a cultural purpose, bringing economic benefits to local people and with minimum impact on the environment in accordance with a Responsible Travel policy.
Experience & Quality
Peter Sommer has been organising cultural tours since 1996 and aims to provide the very finest expert-led archaeological tours and gulet cruises.
Croatia

Walking and Cruising Southern Dalmatia

Cruising the Coast of Dalmatia: Dubrovnik to Split & Reverse

Greece

Exploring Crete

Easter in Athens

Exploring the Peloponnese

Cruising to the Cyclades

Cruising the Aegean: From Kos to Patmos

Cruising the Aegean: From Kos to Patmos

Cruising the Dodecanese

Walking and Cruising the Dodecanese

Italy

A Gastronomic Tour of Sicily

Exploring Sicily

Exploring Rome

Cruising the Aeolian Islands

Cruising the Amalfi Coast

Turkey

In the Footsteps of Alexander the Great: The Conquest of Asia Minor - Part One

Walking and Cruising Western Lycia

A Gastronomic Gulet Cruise

Cruising to Ephesus

Cruising the Carian Coast: From Mediterranean to Aegean

Cruising the Lycian Shore

Walking and Cruising the Lycian Shore

United Kingdom

Exploring Hadrian's Wall

Exploring Wessex

Exploring Wales

Ireland
This brochure covers the regions and holiday types listed below. Click on the links to see more free travel brochures covering the regions and holiday types you are interested in.