To order this holiday brochure for FREE delivery to your home or computer, click the GET THIS FREE button.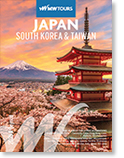 This brochure is no longer available on this website.
Great Value Tours to Asia & Beyond
Korea Tours | Japan Tours | Combination tours | Tailor Made Itineraries | Cruises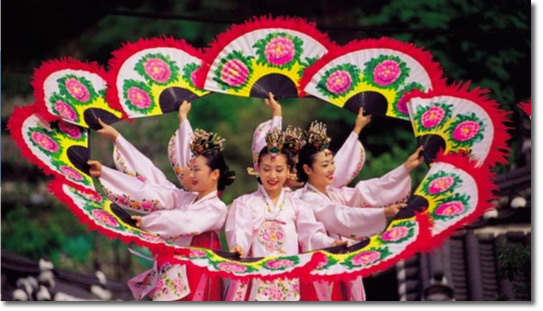 Among the vibrant green of the mountains, amidst the fluttering cherry blossom petals, within the transition of the four seasons, people see colours. From Japanese-style homes fragrant of wood to brush-strokes of Japanese characters to tableware in multiple colours on their dining tables, you can tell Japan's colours and shapes are messages that convey spirit & culture.
Japan is a world apart – a cultural utopia where unique civilisation blossomed, and today thrives in delicious contrasts of traditional and modern.
Why MW Tours?
MW Tours knows your destinations very well. Its multi-cultural staff members are from those regions and are striving to provide the best quality services to ensure every customer has a fantastic and unforgettable trip. MW Tours offers many itineraries, packages and flexible departure dates to suit every customer's requirements. No matter what your touring style, our quality & prices are always unbeatable and the best value for money!
You might not be able to find your ideal trip from MW Tours' wide range of packages. Or you may wish to maintain independence and flexibility to travel at your own pace. Simply speak to MW Tours' friendly Reservations Team who can tailor make a trip just for you!
Experience: MW Tours is experts at what it does. MW Tours offers many itineraries, packages and flexible departure dates to suit every customer's requirements. No matter what your touring style, MW Tours' quality
Peace of Mind: 24 hours local emergency contact number in all destinations
Luxury Hotels: MW Tours has hand-selected the best and most comfortable luxury hotels. MW Tours knows that a good night's sleep is very important while touring. Most tours use 4- to 5-star hotels, however in the event you are over-nighting in remote areas, you will be accommodated in the best local hotels.
Unbeatable Value: MW Tours has a motto of "Great Value Tours" and aims to ensure outstanding value for money.
Group Sizes: The average group size of most tours is 6 to 12 guests. Most MW Tours' tours offer guaranteed departures based on a minimum of 2 guests, so you can book with confidence and plan your holiday early.
Small Group Touring Benefits
One of the benefits of travelling in a small group with us is that you get personalised service. Your guide will be able to better suit each excursion according to your interests and expectations. Flexible time arrangements and more personalised commentaries will be used to make sure you and other like-minded travellers have greater insight into the history and culture of each destination.
A stress-free journey is another reason why so many people book with MW Tours. In your expertly planned itinerary, your meals will be booked, evening entertainment tickets will be pre-arranged, and your hotel room key will be ready for check-in. Your English-Speaking Guide will look after you and guide you through all the best local sights, with no language barriers. We know your time is precious, therefore there is no need to hunt around and plan your perfect itinerary. You can sit back and relax on MW Tours' luxury air-conditioned coaches, while enjoying the scenery and an expert commentary. You can also make new friends during your small group touring because you have more time and closer interaction with your fellow travellers than in bigger groups. Moreover, your budget is well controlled as you are entitled to group discounts when you book with MW Tours. You will know how much you are going to pay up front and have more spending money in your chosen destination.
Fully Inclusive Tours
You will not find any hidden extras or nasty surprises after you book the tour with MW Tours. When MW Tours says fully inclusive, it means it. Except for some semi-independent tours, all MW Tours' air and land packages are inclusive of international and domestic economy class flights, any cruise and train tickets, luxury accommodations, delicious local meals, English speaking local guides, tipping for guide and driver, local taxes and surcharges, entrance fees, some evening entertainment, pre-tour information booklet, travel wallet, airconditioned coach transfers throughout and even your daily mineral waters. All you need to prepare is your daily spending money for personal expenditures. Travel insurance and visas are generally not included but these can be added at an additional cost with discount. Please refer to "Inclusions" and "Exclusions" of each individual tour for more details.
Your Local Guides & National Guides
Tour guides are the most important factor of your group travel. MW Tours is lucky enough to have knowledgeable, professional, responsible and delightful local guides to serve you and they will be with you (in certain regions) to make sure you enjoy your tour. They will be more than happy to share the in-depth knowledge inside out. MW Tours' professional English speaking national guide/tour escorts will also accompany you throughout group tours with larger numbers of passengers. They will be there to handle daily arrangements, coordinate with each local guide and make sure your holiday runs smoothly and your trip
Tailor Made Trips
If you don't find the tour that meets your needs, why not ask MW Tours about a tailor made itinerary. All you need do is speak to one of MW Tours' friendly travel professionals, who will be able to answer all your queries and tailor a trip just for you.
This brochure covers the regions and holiday types listed below. Click on the links to see more free travel brochures covering the regions and holiday types you are interested in.