Macleay Valley Travel News View Basket
To order this holiday brochure for FREE delivery to your home or computer, click the GET THIS FREE button.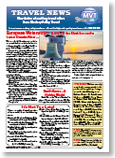 This brochure is no longer available on this website.
Value-for-money conducted tours with the experts
The history of Macleay Valley Travel goes back to 1988, when Alan Davies sold his Nissan car dealership & John Deere & Kubota dealership in Kempsey. He started travelling extensively and discovered that he seemed to have a better idea of putting overseas tours together than did the professional travel agents.
Being too young to retire, Alan purchased Macleay Valley Travel in Kempsey. At that time this was a one employee agency. After he purchased the agency he noticed that the few agencies that were selling fully conducted overseas tours, were charging exorbitant prices for these tours - particulary if the tour leader was a "name" from the fields of sports or politics.
There was clearly an opening in the market for value-for-money conducted tours and Alan decided to fill this market niche.
The first tour in 1992 had only five tour participants. But since then the business has rocketed to over 90 tours per year with several thousand tour participants. For Alan the most pleasing aspect of the business is that at least 60% of new clients are a direct result of recommendations from existing clients.
Today, Macleay Valley Travel has a staff of ten people.
Worldwide destinations include:
Japan
Taiwan
Turkey
Vietnam
Thailand
Small Group Tours of France
Hawaiian Islands & Alaska's Inside Passage
Malaysia & Borneo Everest Region
Trek Egypt, with Nile Cruise
Europe Tours & Cruises
This brochure covers the regions and holiday types listed below. Click on the links to see more free travel brochures covering the regions and holiday types you are interested in.