Nepal Trekking Adventure View Basket
To order this holiday brochure for FREE delivery to your home or computer, click the GET THIS FREE button.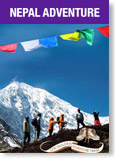 This brochure is no longer available on this website.
Adventure Travel Specialists for Unique Active Holidays
Ex Kathmandu –  15 October 2019 | 25 day trip | 20 day trek | 4 nights hotel | 18 nights lodge | 2 nights homestay
Looking for a challenge? Join this adventure of a lifetime and discover the secret Tibetan Buddhist land lying at the edge of one of the most secluded Himalayan valleys.
Tsum Valley is one of the world's remotest Himalayan Valleys, a restricted region until recently. The trek to Tsum Valley takes you from 375m to 5100m into the majestic surroundings of the Ganesh Himal, Sringi Himal, and Boudha Himal ranges. The region was once part of Tibet and the people of Tsum Valley, the Tsumbas, are of Tibetan origin with their own ancient form of dialect, art and religion and diverse range of ecosystems and ethnic cultures,.
Very few adventure travellers have made it to this high and mysterious valley, which used to be an important trade link with Tibet.
Trek the route of the Manaslu Circuit before heading to Tsum to explore this very unique part of Nepal. Return via the Larkya La pass 5125M to the Annapurna Circuit trail, then drive to Besishar and Pokhara for a few days of rest and relaxation before flying back to Kathmandu.
This trip is open to anyone with an average level of fitness who is prepared to set themselves a challenge by increasing their fitness to undertake this amazing 25 day trip in Nepal.
Adventures to suit your style & budget
Lyn Taylor's 25 years of extensive travel in these areas makes her the perfect specialist to design your dream adventure holiday in some of the world's most remote, exotic and extraordinary places. Lyn and her team know the trails, climbs, walks, history, cultures and people that ensure the ultimate experience.
With Lyn Taylor's Adventure Travel, you can explore incredible destinations in any way you like. Go volunteering, travel in a group, relax with your family, travel on an exclusive itinerary...
Stand in awe of snow-capped mountain ranges or climb them, hear the rush of wild rivers and gaze across endless vistas. Learn about daily rituals and traditions performed over thousands of years, hear ancient legends and drink in the aroma of exotic spices. Smile back at curious welcoming faces and participate in friendly and fascinating conversation. Wonder at the myriad colours in a sunset or how stars can be so bright in the night sky. Hear rhinos grunting, tigers roaring, and elephants munching... get close to wildlife and wild places.
If you are looking for an active, out of the ordinary vacation, Lyn Taylor's Adventure Travel designs and leads adventures all over the world. A range of holidays are available to suit your budget in Nepal, Tibet, Bhutan, India, Vietnam, Peru & Spain. Upcoming destinations include Patagonia, Slovenia, Argentina and Japan.
Lyn Taylor's Adventure Travel specialises in Group Adventure holidays, Women's Travel Tours & Family holidays that are tailored towards people looking for something different.
As well as mixed group holidays, Lyn Taylor's Adventure Travel also specialises in Women's Travel Group Tours where Lyn herself personally organises and leads the trip.
Lyn Taylor's Adventure Travel designs tailor-made itineraries to suit your budget and is dedicated to giving customers personalised service and value for money.
The Himalayas
Whether you are looking for a rugged climb, gentle walking or total relaxation, you can experience the most breathtaking mountains on the planet, The Himalayas. Visit the birthplace of Bhuddism, see some of the most fascinating monasteries, architecture and cultures in the world or be one of the few annual travellers to The Last Shangri-La. Lyn Taylor's Adventure Travel also organises volunteer work in the Himalayas.
South America – Peru
Peru is a country of many extremes, a package of fascinating culture, adventure and mystique combined with the excitement of music and laughter. The Andes' ice-capped mountains stand in rugged contrast to the vast steaming Amazon Jungle with its enormous rivers and abundant wildlife. From sand-blown deserts to aqua blue lakes and tropical beaches, ancient lost cities and ultra modern splendour, Peru truly is a trip of a lifetime.
This brochure covers the regions and holiday types listed below. Click on the links to see more free travel brochures covering the regions and holiday types you are interested in.