Africa, Egypt & Middle East - Premium Tailor-Made Tours View Basket
To order this holiday brochure for FREE delivery to your home or computer, click the GET THIS FREE button.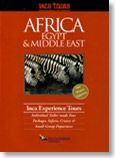 This brochure is no longer available on this website.
Individual Tailor-made Tour Packages, Safaris, Cruises & Small Group Departures
South Africa, Namibia, Botswana, Malawi, Zambia, Madagascar, Kenya, Tanzania, Rwanda, Uganda, Egypt, Ethiopia, Oman, Dubai, Jordan, Syria, Lebanon & Morocco
Inca Tours has over 30 years experience organising small group tours and tailor-made holidays for discerning travellers.
Value for money without compromising on service and quality
Inca Tours brings its vast knowledge and experience together to offer you the best value for money. Everything detailed in the itineraries is included in the cost unless it clearly states that an element is "optional". These holidays are not the cheapest, but offer great value and the most reliable services. Inca Tours does not cut corners to save money.
Accommodation
Inca Tours chooses hotels and lodges that retain the charm and character of Africa as much as possible. You have a choice of standard, superior or deluxe, with all hotels individually inspected and selected.
Local Representation
Inca Tours has representative offices throughout Africa and the Middle East to support you and give you peace of mind.
Private Tailor-Made Tours
All itineraries can be customised to design a private tour for your own small group, bringing together exactly what you want: choose your destinations, standard of accommodation and private or seat-in-coach transport services. Anything you see in these Africa Experience itineraries can be modified and altered to suit what you would like to do. This means you can pick and choose components from the different itineraries and make up your own unique tour. Everything is possible with Inca Tours – a custom itinerary can be designed to match your exact requirements.
About Inca Tours
Inca Tours is an expert guide and planner for all your travel needs with in-depth "on the ground" experience that has made it a world leader in destination-specific travel for Africa tours, South American tours, Central America tours and Antarctic Cruises.
The unparalleled knowledge and local contacts of Inca Tours is reflected in the comfort, service, professionalism, attention to detail and, above all, safety and security that you will experience.
Inca Tours caters very much to the "discerning traveller", but still has a large portfolio of programs suitable to moderate and budget-conscious travellers including fully-escorted luxury tours, self-designed package holidays, city stopovers and accommodation, adventure programs, cruising, trekking, horse riding and bird-watching.
This brochure covers the regions and holiday types listed below. Click on the links to see more free travel brochures covering the regions and holiday types you are interested in.