National Geographic Journeys View Basket
To order this holiday brochure for FREE delivery to your home or computer, click the GET THIS FREE button.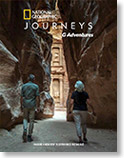 This brochure is no longer available on this website.
Introducing a new way to experience the world
Asia | India | China | Africa | Europe | Canada | Central & South America | Australia & New Zealand
This exclusive collection of 70 unique small-group tours offers greater hands-on exploration, special insider access to National Geographic projects around the world, and the freedom to roam, all with upgraded accommodation and more inclusions than with other G Adventures tours.
National Geographic Journeys deliver the ideal blend of must-see highlights, hands-on exploration, free time, and opportunities to forge true, human connections – with the people you visit, as well as those you meet along the way.
One Partnership, Countless Possibilities
National Geographic has been inspiring the world for more than 125 years, through exploration, science, and storytelling. G Adventures changes lives every day through the social and economic power of travel and human connection.
National Geographic Journeys with G Adventures will take you deeper into the cultures and habitats of the places explored. These itineraries have been created to offer more meaningful encounters, interactions with knowledgeable local experts, and the freedom to roam, all within the structure and security of travelling in a small group. Visit a rhino conservation program in Kenya, plant trees in a Costa Rican cloud forest with a biologist from a National Geographic-supported research centre, or walk the streets of Delhi with a former street youth. Get inspired and discover your own journey. The world is waiting…
Diverse Transport
There are few better ways to connect yourself to a destination than by experiencing it aboard transport you can't find at home. Here's to a tuk tuk, rickshaw, or camel ride you'll always remember.
Character-Rich Accommodations
Ever wanted to spend the night in a Jordanian desert camp? How about a converted fort in India? Whenever possible, the accommodation in these journeys reflects the unique character of the places visited.
Your Local Guide
Every trip comes with its own local CEO (Chief Experience Officer), whose main purpose is to make your adventure as extraordinary as possible. Unique perspectives, insider access, and suggestions about where to eat or meander are always at hand.
Feel the Freedom
You'll have plenty of free time to do anything you wish. An afternoon to just wander the city? Of course. Private dinner somewhere? By all means. Before departing, you'll receive articles and tips from National Geographic to help you make the most out of your travels.
Change the World
Travel with National Geographic Journeys and you're helping fund G Adventures' community development initiatives worldwide as well as supporting National Geographic Society's non-profit work in conservation, research, and exploration.
Learn All You Can
Each tour includes opportunities to learn about our world through unique interactive experiences with local experts … marine biologists, photographers, Buddhist monks, chefs, and others. This planet never stops teaching. National Geographic Journeys deliver the ideal blend of must-see highlights, hands-on exploration, free time, and opportunities to forge true, human connections – with the people we visit, as well as those we meet along the way.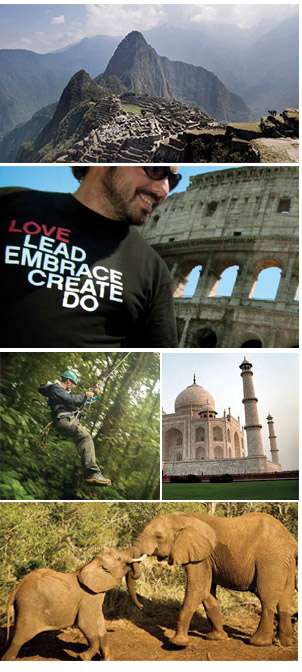 The G Difference
Changing The Travel Business, One Great Idea At A Time
As small group adventure travel pioneers, G Adventures has always done things a little bit differently. To G Adventures, there's no such thing as "outside-the- box thinking" because G Adventures doesn't believe in boxes.
100% Guaranteed Departures
The security that comes from knowing your trip is locked-in is a feeling that can't be topped. G Adventures likes that feeling - so much so that it figured everyone should have it. Every G Adventures departure is now guaranteed to run. Yup, all of them. Once you've booked and paid, that's it; you're going. Guaranteed. Your trip won't be cancelled by G Adventures for any reason (beyond harsh weather or safety issues). Promise.
Lifetime Deposits
G Adventures Lifetime Deposit Policy is designed to protect you from unexpected or unpredictable events that may cause you to cancel or delay your trip. Whether you opt to use it again for the same trip, transfer it to another one, or save it up for a not-so- rainy day, G Adventures has got you covered, no matter the circumstances. You can even pass it on to a friend.
24/7 Service
When your business covers the whole world like ours does, you have to be available and account- able all the time. If you've got a question about a trip - even if it's the one you're currently on - G Adventures is here to help. Always. G Adventures never sleeps. NEVER.
No Single Supplements
Travelling by yourself doesn't mean you have to travel alone. G Adventures treats single travellers to the same benefits as the rest of the group, which is why G Adventures doesn't charge single supplements. G Adventures will partner you up with a same-sex roommate to ensure you pay the same as everyone else.
Choice
G Adventures offers the widest variety of destinations, departure dates, trip styles and service levels in the business. No matter where, when, how or why you want to travel, G Adventures has got the trip of a lifetime for you.
Value
What you saw and did should be the most memorable part of your trip, not the price you paid for it. G Adventures offers unforgettable travel experiences at the most competitive prices you'll find anywhere. How? By following a grassroots approach to travel that keeps operating costs low and savings high.
Satisfaction
G Adventures is pretty proud of its customer satisfaction record. A whopping 99% of G Adventures travellers report satisfaction with the service offered them on their trip. How does G Adventures do that? By listening. It's just one of the many ways G Adventures leads with service.
Global Network
There's a great big world out there, and with more than 20 sales and operations offices worldwide, you're never far from one. And with a fleet of exclusive boats, lodges and vehicles at its disposal, G Adventures can deliver an experience that's fresh, fun and consistently G Adventures-y from start to finish.
Asia

India

Nepal

Bhutan

Sri Lanka

China, Tibet

Indonesia

Myanmar (Burma)

North Africa & Middle East

Africa

Botswana

South Africa

Zimbabwe

Tanzania

Kenya

Ethiopia

Uganda, Rwanda

Oceania

Europe

Montenegro, Bosnia & Herzegovina, Croatia

Austria, Hungary, Czech Republic, Germany

Italy

France

Iceland

Spain

Turkey


 

North & Central America

Canada

Costa Rica

Belize

Guatemala

Mexico

South America

Argentina

Chile

Patagonia

Brazil

Peru

The Amazon

Ecuador

Colombia
This brochure covers the regions and holiday types listed below. Click on the links to see more free travel brochures covering the regions and holiday types you are interested in.