Active Adventures | Hike, Bike & Kayak Your World View Basket
To order this holiday brochure for FREE delivery to your home or computer, click the GET THIS FREE button.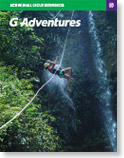 This brochure is no longer available on this website.
There's an amazing planet out there, and it can't wait to meet you
South America | Central America | North America | Asia | Africa | Middle East | Europe | New Zealand |
Hungry to walk, hike, trek, bike, raft, and kayak your way across the world's greatest destinations? No sweat. (Well, maybe a little.) You don't have to be a decathlete to take an Active trip, just someone with a healthy love for getting active and the outdoors.
G Adventures has defined (and redefined) small group travel for over 20 years. Travelling with G Adventures is the very best way to get up-close and personal with your planet in a way you'd never manage on your own.
The Secret Ingredient: Freedom
The greatest thing about the word 'adventure' is that it's so open-ended; you decide what it means to you. To G Adventures, 'adventure' means active exploration; cultural immersion, embracing the unexpected, escaping the well-trod path and creating true, lifelong connections with the people and places you visit.
What's An 'Active Trip?
G Adventures' Active trips provide meaningful small-group travel experiences to travellers eager to physically engage with their environment. Each one has been specifically designed to deliver a balance of must-see travel highlights, spontaneous situations, insider access and tangible, meaningful connections with a destination and its people that you just can't get through other styles of travel.
Is adventure travel for you?
We all travel for our own reasons, but that doesn't mean we don't share a few things in common. if you're...
Looking for something more than a mere holiday;
Aware that there's more to travelling that what you find in a guidebook
Eager to mix a little physical activity in along the way
Looking to get off the tourist trail and do something different;
Interested in creating true, lifelong connections with people and places;
Excited by the prospect of staying in handpicked hotels and guesthouses;
Enthusiastic about giving back to the communities you visit.
… then G Adventures is right for you.
Faster, Higher, Stronger, Funner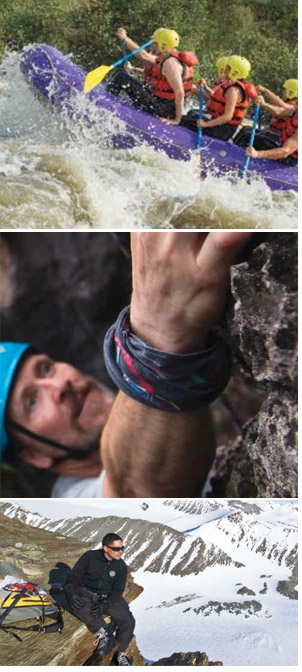 Small-Group Travel With An Active Twist
There are plenty of great places to take things slow on this amazing planet of ours, but what if you want to go a little faster? Take an Active trip. G Adventures has hunted high and low in search of adventures that engage the muscles as much as the mind and heart. Biking, hiking, whitewater rafting, dog-sledding, and other so-amazing-they-need-a-hyphen activities await. Have a look at what makes the G Adventures experience different from the rest
Local Transport
How you get around largely depends on your choice of Travel Style and Service Level. For the most part, G Adventures uses local transport - buses, taxis, commuter trains, that sort of thing - because it's the most economical and colourful way to go.
Character-Rich Accommodations
The activities available on each Active trip make the most of their settings, and the accommodations are no different. Depending on your trip's Service Level, you'll return at the end of the day to unique regionally-themed lodgings, anything from a whitewashed Spanish hacienda to camping under the Tanzanian stars of Kilimanjaro.
Regional Cuisine
G Adventures includes some meals in the price of your trip and leave others wide open for you to discover the local fare on your own in deference to taste and budget (and your CEO is fully equipped with loads of ideas if you're stuck). Meals include anything from home-cooked feasts, dinners at renowned restaurants, and whatever looks good at the market stall.
Global Groups
G Adventures' groups average about 12 travellers per departure, often a mix of solo travellers, friends travelling together and couples, all of varying ages and from all over the world. You'll find just about every type of person in your group. Come prepared to make plenty of new best friends.
Skilled CEOs
Each trip comes equipped with an expert CEO (Chief Experience Officer) responsible for enriching your journey, offering local insight, pursuing great experiences as they happen and adding a unique personal perspective to the adventure. To your CEO, making your trip the best it can be is all that matters.
Freedom & Independence
A big, impersonal tour bus won't take you to a real adventure. Curious to explore that interesting market down the road or want to grab a table at that cozy café you just passed? Yeah, G Adventures can do that. G Adventures includes the must-see highlights on most every trip, freeing up the rest of your time for freeform adventuring.
The G Difference
Changing The Travel Business, One Great Idea At A Time
As small group adventure travel pioneers, G Adventures has always done things a little bit differently. To G Adventures, there's no such thing as "outside-the- box thinking" because G Adventures doesn't believe in boxes. Check out a few of the ways la difference is vive'd daily around here.
100% Guaranteed Departures
The security that comes from knowing your trip is locked-in is a feeling that can't be topped. G Adventures likes that feeling - so much so that it figured everyone should have it. Every G Adventures departure is now guaranteed to run. Yup, all of them. Once you've booked and paid, that's it; you're going. Guaranteed. Your trip won't be cancelled by G Adventures for any reason (beyond harsh weather or safety issues). Promise.
Lifetime Deposits
G Adventures Lifetime Deposit Policy is designed to protect you from unexpected or unpredictable events that may cause you to cancel or delay your trip. Whether you opt to use it again for the same trip, transfer it to another one, or save it up for a not-so- rainy day, G Adventures has got you covered, no matter the circumstances. You can even pass it on to a friend.
24/7 Service
When your business covers the whole world like ours does, you have to be available and account- able all the time. If you've got a question about a trip - even if it's the one you're currently on - G Adventures is here to help. Always. G Adventures never sleeps. NEVER.
No Single Supplements
Travelling by yourself doesn't mean you have to travel alone. G Adventures treats single travellers to the same benefits as the rest of the group, which is why G Adventures doesn't charge single supplements. G Adventures will partner you up with a same-sex roommate to ensure you pay the same as everyone else.
Choice
G Adventures offers the widest variety of destinations, departure dates, trip styles and service levels in the business. No matter where, when, how or why you want to travel, G Adventures has got the trip of a lifetime for you.
Value
What you saw and did should be the most memorable part of your trip, not the price you paid for it. G Adventures offers unforgettable travel experiences at the most competitive prices you'll find anywhere. How? By following a grassroots approach to travel that keeps operating costs low and savings high.
Satisfaction
G Adventures is pretty proud of its customer satisfaction record. A whopping 99% of G Adventures travellers report satisfaction with the service offered them on their trip. How does G Adventures do that? By listening. It's just one of the many ways G Adventures leads with service.
Global Network
There's a great big world out there, and with 20 sales and operations offices worldwide, you're never far from one. And with a fleet of exclusive boats, lodges and vehicles at its disposal, G Adventures can deliver an experience that's fresh, fun and consistently G Adventures-y from start to finish.
South America

Peru
Argentina
Chile

Ecuador
Venezuela

Central America & Caribbean

Costa Rica

Cuba

Nicaragua
Panama

North America

Canada
United States of America
Alaska

Asia

Vietnam
Thailand
Cambodia
Nepal


Middle East & Africa

South Africa

Tanzania

Morocco
Jordan

UK & Europe

Switzerland
France
Italy
Spain
Croatia
Montenegro
Bosnia & Herzogovina
Romania
Turkey
Greece
Norway
Iceland
Sweden
Ireland
England
Scotland

New Zealand

North Island, New Zealand
South Island, New Zealand
This brochure covers the regions and holiday types listed below. Click on the links to see more free travel brochures covering the regions and holiday types you are interested in.