Mongolia & Naadam Festival View Basket
To order this holiday brochure for FREE delivery to your home or computer, click the GET THIS FREE button.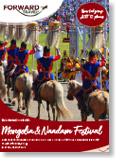 This brochure is no longer available on this website.
Join this magical journey across Mongolia, the home of nomads and bithplace of legends.
Escorted small group tour, only 12 places | 30 June-13 July 2019 | 14 DAYS | GOBI DESERT ∙ KHARAKHORUM ∙ KHONGOR SAND DUNES ∙ STAY IN A NOMADIC COMMUNITY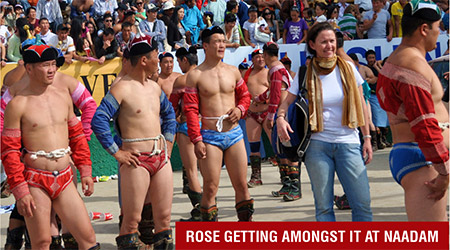 Join this magical mystery journey across Mongolia with professional tour leader Rose Toohey: "I went to Mongolia a few years back and was captivated by the scenery and the warmth of the locals. I was amazed, and a bit blown away, by the intensity of Naadam, and now want to share the experience with other eager travellers".
Experience a unique, expressive, local and vivid experience of nomadic culture, ancient heritage, national pride and a unique event that is worthy of experiencing at least once in your life time.
Discover the legendary Gobi Desert and the open plains of Mongolia. Ride a camel to the singing sand dunes, and experience the life of a nomad family.
Join in the excitement of Naadam, Mongolia's national festival. Watch the wrestlers, archers and horse riders striving for honour, and be welcomed into the nomadic homes.
This will be an experience, an adventure, and a journey to remember.
Mongolia is a compelling and enthralling destination. The vast grassland in the east sees the sun creep above the horizon as though it's rising from the land itself. The Gobi Desert reveals itself in pockets of breathtaking scenery, bridged by vast stretches of desolation where silence dominates.
Central Mongolia is home to ancient Kingdoms whose legends still loom large in today's culture. Travellers are greeted with the warmest of welcomes and can experience the landscape and rich traditions and lifestyle of the nomads who have been living the same way for millennia.
The Naadam Festival is the only one of its kind, and expresses the core of nomadic culture. It is the honoured celebration of a national independence and pride, and an outstanding combination of arts and sports, featuring wrestling, horseracing and archery as well as elements of arts, such as throat singing and folklore dancing.
Savour the flavour of a journey made specially for you
Forward Travel is the brainchild of seasoned travellers David Smyth and Rose Toohey, who have combined their knowledge and experience to help forward thinking travellers travel better, travel further and travel more.
David and Rose have journeyed far and wide enjoying the road less travelled in preference to the busy highway. They own and run Forward Travel, so have the freedom, flexibility, and enthusiasm to tailor your trip exactly how you want it to be. They work directly with trusted tour operators in each country to offer you the largest range of choices in each destination.
This brochure covers the regions and holiday types listed below. Click on the links to see more free travel brochures covering the regions and holiday types you are interested in.