Canadian Arctic, Wildlife & Aurora View Basket
To order this holiday brochure for FREE delivery to your home or computer, click the GET THIS FREE button.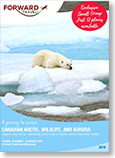 This brochure is no longer available on this website.
A Journey to Savour
Canada's High Arctic | Northern Lights | Grizzly Bears | Orcas | Vancouver Island
Exclusive Small Group | 9 Days, 05-24 August 2019 | Just 12 places available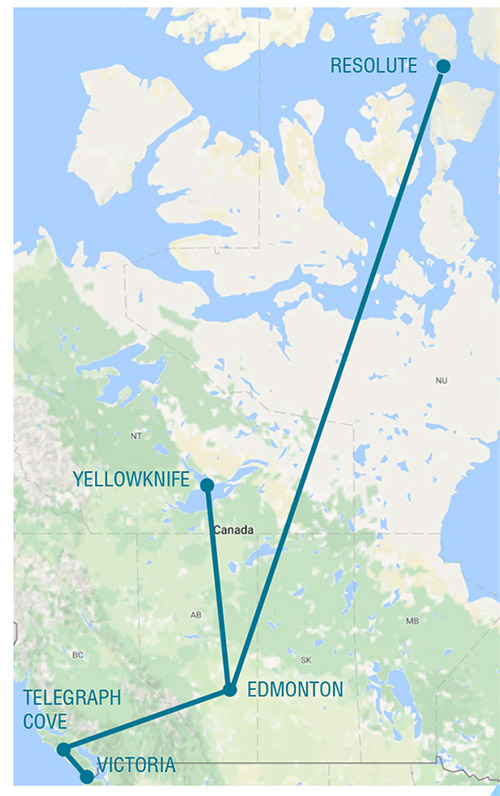 Nature is the heart and soul of Canada, and Forward Travel's 19-day journey captures some of its best; from the sea to shore to sky.
You'll watch killer whales and grizzly bears on Vancouver Island, and stay in one of Canada's last boardwalk villages.
Cruise the historic Northwest Passage for 10 days in the High Arctic, searching for polar bears, birds and mysterious wildlife.
Your journey ends on the highest note, seeing the Aurora Boprealis dance across the sky.
From West to North to high above, Foward Travel has hand picked the best places and best guides to give you the best journey.
This is a shared journey more than a tour. Join a small group of 'like-minded' people travelling together, with an experienced Tour Leader who will ensure all details are perfect. This trip will be a spectacular journey like no other.
Arctic Cruising with One Ocean Expeditions
Forward Travel's preferred Polar Expedition partner is One Ocean Expeditions. Forward Travel believes One Ocean Expeditions provides the best expedition ships and the best expedition team. On all One Ocean expeditions you can be expect to be amazed, to be overwhelmed and to be even more impressed than you had imagined. You'll receive personal, professional attention from the team, whose sole focus is to give you the best possible journey. You will congratulate yourself on your choice of a One Ocean Expedition journey.
Who is Forward Travel
Forward Travel is the brainchild of seasoned travellers David Smyth and Rose Toohey, who have combined their knowledge and experience to help forward thinking travellers travel better, travel further and travel more.
David and Rose have journeyed far and wide enjoying the road less travelled in preference to the busy highway. They own and run Forward Travel, so have the freedom, flexibility, and enthusiasm to tailor your trip exactly how you want it to be. They work directly with trusted tour operators in each country to offer you the largest range of choices in each destination.
Travelling Forward
All Forward Travel journeys are customised for each person, so its style of travel is really your style. Forward Travel will discuss how you like to travel, the type of hotels and touring you prefer as well as how energetic you want to be. Forward Travel will then make suggestions to suit your preferences.
Forward Travel doesn't pigeon hole you by star ratings, instead it discusses your preferences and match properties to suit. The hotels used here are mainly good quality 3.5-4 star, well located with local style. Forward Travel has fantastic indulgent places to mix it up when suitable.
Forward Pricing
Most people convince a partner or friend to travel with them so prices shown are per person, based on two people travelling together and sharing a room. If you are looking for some solitude, Forward Travel can plan a trip just for you. Most of these trips are suggestions and can be tailored as you wish. Forward Travel welcomes larger groups and can often secure discounts for them. To keep things simple all the itineraries in this brochure have the signature Forward inclusions.
This Exclusive 19-Day Journey Includes:
10 Day One Ocean Arctic Expedition on The Akademik Ioffe
3 Nights Aurora Viewing
5 Internal Flights Within Canada
Full Day Grizzly Bear Viewing In Knight Inlet
Stubbs Island Whale Watching Cruise
3 Nights In Telegraph Cove, One Of Canada's
Most Picturesque Villages
Visit To Butchart Gardens
Services Of Tour Escort
Guided Sightseeing In Victoria
Guided Sightseeing In Yellowknife
35 Meals, Breakfast Daily, 8 Lunch, 9 Dinners
Transfers From Airport To Hotel And Return
Excellently Located, Good Quality Hotels
Arctic Outer Gear Included On Ship, Boots,
Pants, Jacket, Binoculars, Drybag
Limited To Just 12 Travellers
This brochure covers the regions and holiday types listed below. Click on the links to see more free travel brochures covering the regions and holiday types you are interested in.