To order this holiday brochure for FREE delivery to your home or computer, click the GET THIS FREE button.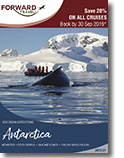 This brochure is no longer available on this website.
Welcome to Antarctica ... it's a pretty cool place

Antarctica | South Georgia | Ushuaia | Weddell Sea | Falkland Islands | Patagonia
Antarctica is a breathtaking banquet of wilderness and wildlife. The highest, driest, coldest, windiest and most remote continent on the planet, it is one of the few places humans have not and cannot conquer and to immerse yourself in its icy walls is a life changing journey. Standing on the bow as you gently glide through the still waters enclosed by towering 'meringue' covered peaks, you are entranced by the silence, interrupted by the thunderous crash of calving glaciers, rolling icebergs, and wildife passing by. Busybody penguins, graceful whales and curious seals combine to put on one of nature's finest performances, leaving you inspired, amazed and eager for an encore.
Who is Forward Travel
Forward Travel is the brainchild of seasoned travellers David Smyth and Rose Toohey, who have combined their knowledge and experience to help forward thinking travellers travel better, travel further and travel more.
David and Rose have journeyed far and wide enjoying the road less travelled in preference to the busy highway. They own and run Forward Travel, so have the freedom, flexibility, and enthusiasm to tailor your trip exactly how you want it to be. They work directly with trusted tour operators in each country to offer you the largest range of choices in each destination.
More choice, even better viewing
One Ocean Expeditions offers Fly/Cruise as well as the Classic cruise expeditions, giving you even more choice and even better wildlife viewing. So you can skip the Drake and get straight amongst the action in Antarctica.
Wonderful ideas for tailor-made journeys to suit your style, time and budget
This brochure takes a new and different approach to holiday planning, setting out all the information you could want at this most exciting stage of planning, with maps, sample itineraries, inclusions, optional extras - such as kayaking, which needs to be booked in advance, timings and dates, helpful tips and suggestions, plus a clear outline of trusted partners and their products and services.
One Ocean Expeditions sets the benchmark in expedition cruises
Forward Travel chooses to work with One Ocean Expeditions, as they believe that this established operator is the best. One Ocean Expeditions is one of the most experienced teams operating expedition cruises, with one of the highest staff-to-guest ratios in the industry. Known for their innovation and high quality, superior adventure travel, One Ocean sets the benchmark in the expedition cruise industry.
Tell Forward Travel what you are thinking - where would you like to go, how would you like to travel, how much time have you got, what is your budget? Forward Travel will then come up with a tailor-made itinerary that suits your Antarctic and South American dream holidays perfectly.
The Forward style of travel
Travelling is not just about what you see but how you experience it. Forward Travel wants your memories to be of great guides, fantastic meals and how you felt being immersed in your location, rather than merely ticking off the sights you'd already seen before you left home.
Planning an Antarctic adventure can be complex. Forward Travel understands the importance of your journey to the southern continent and takes great care in planning every aspect for you, from which ship, which cruise, how to get there, and what to do before or after the cruise. Many people book anywhere from 9-18 months in advance, so there's plenty of time to get to know your requirements and help prepare you for what may well be the trip of a lifetime.
If you stay in hotels, these are personally selected to deliver the best value. Your preferences will be considered to suggest hotels appropriate to the location and the amount of time you have available. Trips are often planned using good, tourist class hotels to save you money for a luxury mini-holiday at the end of your trip. Hotels used in this collection are mainly 3.5-4 star, usually smaller hotels and offer some local character. Forward Travel looks for excellent locations, security and comfort, spacious public areas, large rooms, luggage space, good breakfasts and free wi-fi wherever possible.
A trip to Antarctica is a fabulous excuse to see some of South America, and Forward Travel will happily advise you and organise that as well, including fabulous Patagonia.
On board the ship, you will enjoy the best personal service from One Ocean expedition leaders and wildlife guides. During the days at sea your expedition team will deliver presentations to educate and inform you, including the history and the wildlife you will soon meet. Days are spent on deck watching for whales, and seabirds, and the open bridge allows you to observe the experienced crew and expedition team plotting your course.
Combine South America with Antarctica
If you are combining Antarctica with South America, English speaking guides will meet you in each location to escort you to your hotel. Guided sightseeing will introduce you to famous and fabulous places, and allow time to explore on your own. Expert local guides give great insight to hidden jewels and restaurants that the guide books don't know about. When it is time to move on, you will be collected from your hotel and taken to the next exciting destination. Some of the guided sightseeing is with other people, and some is private. Local buses are used for long distance travel, always with someone there to put you on the right bus, and someone to meet you at your destination. This gives you the maximum time to enjoy the journey without having to worry about the boring bits.
Forward Pricing
Most people travel with a partner or friend, so all prices are per person, based on two people travelling together and sharing accommodation with each other. If you are looking for some time out, a trip can be planned specially for you. Most trips are independent so can be tailored as you wish. Forward Travel welcomes larger groups as well and can often secure group discounts.
All prices include:
Arrival and departure transfers with English speaking driver/guides in each location.
All transportation, commencing with your arrival transfer on day one, through to departure transfer on the final day. Flights have been based on the LAN Airpass (see page 6), and may increase due to eligibility and availability.
Good quality, well located accommodation, with private facilities and breakfast daily. Other meals are listed in each itinerary.
Sightseeing tours, usually shared with other travellers, (to keep price down for you), led by English speaking guides. In some places, like Machu Picchu, your tour will be just for you.
Entrance fees that can be paid in advance (some National Parks require payment upon arrival, so cannot be included in the tour price).
24 hour assistance by our trusted partners in each country.
This brochure covers the regions and holiday types listed below. Click on the links to see more free travel brochures covering the regions and holiday types you are interested in.