Small Group Tours of South America, Mexico & Cuba View Basket
To order this holiday brochure for FREE delivery to your home or computer, click the GET THIS FREE button.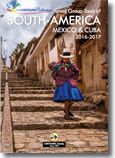 This brochure is no longer available on this website.
Enjoy leisurely comfort & genuine flexibility on a premium escorted tour
Peru, Bolivia, Brazil, Argentina, Chile, Ecuador, Antarctica, Mexico & Cuba
The Contours Collection of Small Group Tours of South America has been created by Contours Travel director Ted Dziadkiewicz and is the result of years of experience in the travel industry.

The Contours Collection is designed for, but not exclusively confined to, travellers in the 45-65 age group – mature travellers with a lively sense of fun and adventure. All tours are fully escorted and there are guaranteed departures with groups of a minimum of four and a maximum of 16 people.
Some of the benefits of travelling with Contours Travel
4 and 5 star hotels, with a focus on character-filled, historic hotels and lodges that are eco-friendly and sustainable
Fully escorted from day one in South America until the final day of the tour by an English & Spanish Speaking Contours Travel Tour Director
Guaranteed departure with a minimum group size of 4 and a maximum of 16 people
Itineraries designed with as much time as possible in each location, with free days to explore at your own pace
Tours include the traditional 'must see' highlights of South America and much more
More time at altitude to acclimatise
Experience one of a kind tours and activities unique to The Contours Collection including a "Bus and Train Experience" from Cuzco to Puno
More community projects! Included in our Treasures of South America Small Group Tour is the unique Agua Pura Community Project Day. This inspiring experience allows travellers to present and assemble the 'Sawyer One' Water Filter at a local school in a remote Community in the Andes. Get to know the people in the Village and share their every-day activities.
The Contours Collection Small Group Tours of South America
Treasures and the Lakes of Patagonia – 32 Days
Treasures and the Galapagos Islands – 32 Days
Treasures and Southern Patagonia – 32 Days
Treasures and Australis Fjord Cruise – 32 Days
Treasures and Antarctica Cruise – 37 Days
NEW! Discover Mexico and Cuba – 32 Days
Due to popular demand, Contours Travel has designed this amazing small group tour to Mexico and Cuba. Mexico is a land of extremes- from rainforests to vast deserts, tropical beaches to snow-covered volcanoes. With a multitude of indigenous cultures, archaeological masterpieces, quaint villages and a rich history, Mexico is a perfect destination for today's traveller. Cuba, with the vibrant cities of Havana, Trinidad and Santiago de Cuba and the quiet natural beauty of the West, rich in tobacco and coffee plantations, offers real variation for the visitor. Some of the Caribbean's best beaches ensure a relaxing end to this Cuban adventure.
About Contours Travel
Over 35 years, Contours Travel has developed an unrivalled program in Latin America. Experience, expertise and outstanding local guides and representatives mean you can relax, safe in the knowledge that you are in the best of hands.

Contours Travel offers trips to South and Central America, Mexico and the Caribbean, including Cuba, Bermuda and the Bahamas, covering a variety of regions and experiences. Special itineraries throughout Latin America can be created to suit your requirements.

Director Ted Dziadkiewicz first explored the area as an overland bus driver in the mid-1970s, and he maintains a strong, hands-on focus on the business, travelling frequently to Latin America to explore new opportunities. All the friendly, experienced consultants are specialists in the region.

Contours Travel is committed to the ethos of responsible travel and supports a range of community-based initiatives in the countries we visit – from non-profit cafes and jungle eco-lodges to weaving co-operatives – which gives groups the rare chance to meet participants and share something of their lives and their deep, spiritual connection with their unique environment. Contours Travel believes that income from tourism can be a powerful incentive for conservation.

The small groups – usually about 16 members – travel in a less intrusive and more sensitive way that allows connection with people and places on an intimate scale. You will be immersed in the region, so that when you return from Latin America you will have a genuine understanding of the region and its people. Superficial travel is not for Contours. For the same reasons, hotels with real character and a strong sense of history are selected where possible, without sacrificing comfort.

Contours Travel focuses on your comfort and safety, using the best local operators, first-class transport and outstanding English-speaking guides. They are there to help explain and interpret the sights for you, but are also available to provide suggestions on what to do and what to see on the free days woven into itineraries. These days give you the chance to explore independently if you wish, which is when you will make some of your most memorable discoveries. Contours Travel loves Latin America and would love to share it with you.




This brochure covers the regions and holiday types listed below. Click on the links to see more free travel brochures covering the regions and holiday types you are interested in.