To order this holiday brochure for FREE delivery to your home or computer, click the GET THIS FREE button.
Discover the many facets of this exotic and alluring destination
17 Days – Departs Casablanca 14 Sep 2022 & 4 Oct 2023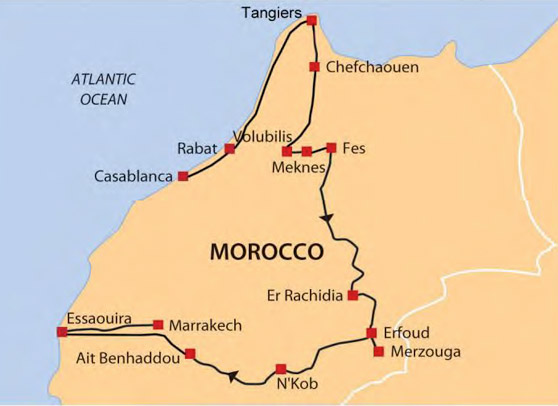 Morocco has experienced many waves of conquerors including Phoenicians, Carthaginians, Romans and Arabs, but it is the last of this group that has left the most enduring impression. Morocco is the oldest kingdom in the Muslim world and successive dynasties have left behind a rich culture and a wonderful heritage, including historic towns, ancient cities and spectacular monuments.
This exciting and very comprehensive journey showcases the best of Morocco. You not only visit the celebrated cities of Rabat, Meknes, Fes and Marrakech but your tour encompasses many lesser‐known places that Byroads Travel has discovered over the years including Sale (home to the infamous Barbary Pirates); Chefchaouen and Tetouan (in the far north); and N'Kob, Tamnougalt and Tachdirt in the south.
From Casablanca you discover the capital of Rabat and the former pirate haven of Sale before continuing northward to beautiful Tangiers on the Straits of Gibralar. Nearby is the World Heritage listed city of Tetouan and the blue-washed mountain village of Chefchaouen with its amazing Kasbah, which is sure to delight. Turning south you visit the imperial city of Meknes and the stunning Roman ruins of Volubilis and in due course you reach the amazing city of Fes, with its maze of medieval souks and there's time for a side-trip to the historical town of Sefrou.
Driving across the dramatic Middle Atlas, you arrive at Merzouga, where you ride camels into the golden sands of the Sahara. You now deviate from the traditional tourist route, travelling first alongside the Jebel Saghro and then into the lovely Draa Valley. You experience stunning landscapes, explore atmospheric towns and villages and enjoy lunch in a historic kasbah at Tamnougalt. This region of Morocco is a particular 'Byroads' specialty, and a major highlight of the trip. Four days allows ample time to experience this incredibly scenic region without hurrying through. Heading to the Atlantic coast, you then spend two nights in the delightful walled medina of Essaouira before driving to Marrakech where you visit all the major sights. Throughout this tour you will experience some charming and atmospheric accommodation, including historic riads and authentic kasbahs.
Your host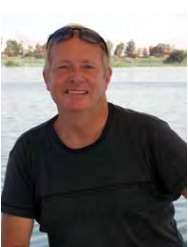 Steve Mortimer heads up Byroads Travel and will be your host on this tour. Steve has more than 30 years in the travel industry and has travelled to well over 120 countries. He has worked with a number of well‐known Australian and UK adventure travel companies including 13 years as a Product Manager and Operations Director for Peregrine Adventures. In addition to researching and developing holidays in many different regions of the world Steve has led a great number of trips to some of the world's most interesting, exotic and out of the way places.
Steve likes nothing better than getting out and about with like-minded travellers, sharing his knowledge and introducing them to some of the world's most interesting places.
With Byroads, you can be confident that your itinerary includes visits to all the 'must see' attractions – and much more, however there are some days when you'll have time to wander and to make some of your own discoveries. Throughout the tour local guides are employed to provide a wealth of background information and share their extensive local knowledge.
This brochure covers the regions and holiday types listed below. Click on the links to see more free travel brochures covering the regions and holiday types you are interested in.