Sri Lanka, India & Beyond View Basket
To order this holiday brochure for FREE delivery to your home or computer, click the GET THIS FREE button.
Private Tours | Escorted Tours | Luxury Tours | River Cruises | Beach Retreats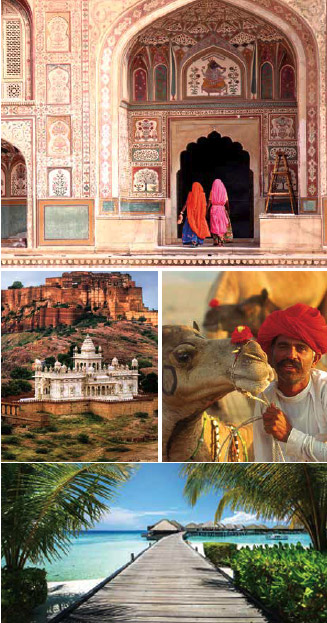 Beyond Travel has been creating memorable experiences for over two decades and knows what makes an unforgettable holiday!
Beyond Travel has partnered with Sri Lanka and India's most respected local operators to bring you a selection of the most extraordinary journeys combining some of the best hotels, exceptional guides and all the must do inclusions; and with enough free time to personalise the way you want.
Whether you are travelling with friends, family, partner, solo or as a group; and whether you are visiting for the first time or coming back for more, this selection of private tours, group tours, rail or river cruise journeys will provide the perfect foundation for that trip of a lifetime!
Sri Lanka
An Island Of Spices, Famous Tea, High Mountain Peaks, Roaming Elephants, Colourful Festivals, Sacred Monuments, Delicious Cuisine And Welcoming People.
Sri Lanka, a small and captivating country, punches well above its weight when it comes to travelling destinations. From the rolling green hills and verdant valleys of the high country, vast stretches of tea plantations, incredibly scenic train journeys and world-class beaches combined with the magnificent ruins of an ancient kingdom, fascinating culture, wildlife and a love of cricket.
This island will capture the heart of every type of traveller. Now is the time to discover it!
India
Discover Cave Temples, Desert Fortresses, Holy Rivers, Wildlife Encounters, Enchanting Rituals, Wandering Cows, a Stunning Coastline, Mouth-Watering Curries and Famous Festivals.
India is an enigma, it is magnificent and mesmerising, crazy and chaotic - an absolute assault on the senses in every way. From snow-capped Himalayan mountain peaks and the colourful cities of Rajasthan to the mighty rivers of the Brahmaputra and Ganges and the sun, sea and spices of the scenic south there is so much to explore. The diversity of India's landscapes, food, festivals, religion, people, traditions and experiences is astounding and will captivate you at every turn.
Inside this brochure
Sri Lanka
Private Tours
TRACES OF AN ANCIENT CULTURE Negombo to Colombo
SRI LANKA UNCOVERED Negombo to Colombo
LUXURY SRI LANKAN ESCAPE Negombo to Colombo
WILD ABOUT SRI LANKA Negombo to Colombo
STUNNING SRI LANKA Colombo to Colombo
SPLENDOURS OF THE NORTH Negombo to Colombo
SEA & SAFARI FAMILY ADVENTURE Colombo to Colombo
TASTE OF SRI LANKA & THE MALDIVES Negombo to Male
Beach Retreats
BENTOTA BEACH RETREAT Colombo to Colombo
TRINCOMALEE BEACH RETREAT Colombo to Colombo
India
Escorted Tours
HIGHLIGHTS OF INDIA Delhi to Delhi – Small Group
ROYAL RAJASTHAN Delhi to Delhi – Small Group
Private Tours
TEMPLES, TAJ & TIGERS Delhi to Delhi
GOLDEN TRIANGLE Delhi to Delhi
RURAL RAJASTHAN Delhi to Udaipur
LUXURY GOLDEN TRIANGLE & UDAIPUR Delhi to Udaipur
NEW DELHI TO OLD MUMBAI Delhi to Mumbai
AMRITSAR & THE HIMALAYAN FOOTHILLS Delhi to Delhi
SOUTH INDIA DISCOVERY Chennai to Cochin
HAMPI & HILL STATIONS OF KARNATAKA Hyderabad to Bangalore
Cruise-tour
GOLDEN TRIANGLE & THE SACRED GANGES Delhi to Varanasi
This brochure covers the regions and holiday types listed below. Click on the links to see more free travel brochures covering the regions and holiday types you are interested in.