To order this holiday brochure for FREE delivery to your home or computer, click the GET THIS FREE button.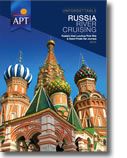 This brochure is no longer available on this website.
Experience Remarkable Journeys by River, Rail & Land with the Russian Experts
Russia | Scandinavia | Finland | Baltics | Arctic Circle | Mongolia | Eastern Europe
Russia offers two of the world's greatest and most romantic journeys. Cruise between Moscow and St Petersburg through iconic Russian cities and charming rural landscapes. Travel on the world famous Trans-Siberian Express between Moscow and Vladisvostok on the Pacific Ocean, aboard the Golden Eagle.
For the ultimate Russian adventure, APT guests can combine a river cruise aboard the MS AmaKatarina and a rail journey on the Golden Eagle.
As one of the first to run a Russian touring program, APT's holidays have been developed over several years to bring you a special collection of extraordinary journeys.
This will be a great year to visit Russia, with the recently launched MS AmaKatarina, and an exciting range of Private Rail Journeys, allowing you to experience many remote and hard to access destinations. If you have ever thought about exploring this part of the world, let APT take you on a truly remarkable departure from the ordinary...
Relax in Luxury aboard the MS Amakatarina
Exclusive to APT, the MS Amakatarina is the most modern, comfortable and spacious river ship in Russia. Thanks to a $14 million reconstruction, it boasts the most spacious accommodation on Russia's waterways and is the first of its kind to introduce balconies, which are a feature of over 70% of staterooms. This luxury ship offers the highest level of accommodation and the finest public areas imaginable.
Indulgent, relaxing and effortless, river cruising with APT is a truly unique experience - where you only ever need to unpack once. Explore a myriad of iconic and hidden attractions in comfort and style, aboard your own floating hotel.
Along with 10 luxury ships in Europe, APT offers a grand range of cruising routes, ships and departures. Designed to bring the elegance and amenities of a five-star hotel to the water, APT's ships offer a truly luxurious experience. In addition to all the comforts you'd expect from a boutique hotel, the all-suite ships offer you a different visually sumptuous setting every day.
Rail Journeys
APT offers guests the opportunity to travel on the Golden Eagle, one of the world's greatest trains. Travel through destinations that will capture your imagination, including the iconic Trans-Siberian Express rail journey from Moscow to Vladivostok.
Extended Small Group Touring
Complement your river cruise or rail journey with an APT land tour, escorted by an APT Tour Director and a professional driver. Travel on luxury coaches and stay at the finest accommodation.
For Your Safety & Peace of Mind
As you traverse the vast expanses of Russia by rail or river, you can rely on the services of English-speaking Cruise and Tour Directors, along with an onboard doctor, who'll be on hand to attend to your every need. With expert local guides to show you around, you won't have to worry about the language barrier – although onboard Russian language lessons will enhance your experience.
Why River Cruising?
Indulgent, relaxing and effortless, five-star river cruising with APT is a unique experience - and you only need unpack once. Explore Russia's myriad attractions in comfort, style, and at your own pace, as you glide through popular and hidden destinations on your luxury floating hotel. Wake each morning to new and undiscovered attractions on your doorstep.
The Road Less Travelled is a River
It's no accident that the rivers of Russia run through some of its most enchanting destinations. For centuries, these waterways have connected the cities, towns and villages dotted along their banks. Today, these places, from Red Square in Moscow to the small town of Goritsy on the Volga river, are steeped in the legends of the past.
Relax or Explore
Each day, you can choose to do as much or as little as you wish, with touring options that cater to every taste and plenty of time to explore independently.
River Cruises - Convenient By Design
APT's river cruises are designed to offer you maximum ease and convenience. Fully inclusive, so you always know where you stand with your budget, every detail is covered - from meals, drinks with dinner, shore excursions, gratuities and more.
Dedicated cruise directors and friendly, attentive staff are there to ensure your holiday is hassle-free. All you need do is relax, for the full duration of your cruise - after all, you only need to unpack once.
CONTENTS

Choose Your Dream Holiday
APT – Majestic Cruising & Epic Rail Journeys
The APT Difference
All-Inclusive Russia Journeys
SuperDeals 2015
APT – Russia's Holiday Specialists
We're There For You
The Luxurious MS Anastasia
Delightful Onboard Dining
The Ultimate in Dining Choice
Stylish Onboard Areas

RUSSIAN WATERWAYS

Russian Waterways - Moscow to St Petersburg - 14 Days
Russian Waterways - Helsinki to Moscow - 17 Days

SCANDINAVIA & FINLAND

Wonders of Scandinavia + Russian Waterways - 29 Days

THE BALTICS & CENTRAL EUROPE

Baltic Treasures + Russian Waterways - 23 Days

Eastern Bloc + Russian Waterways - 25 Days
Berline, Warsaw & Baltic Treasures + Russian Waterways - 28 Days

THE GOLDEN EAGLE

On Board Your Private Train

Trans-Siberian Express - Moscow to Vladivostok - 15 Days
Naadom Festival - Moscow to Ulaanbaatar - 13 Days

Trans-Siberian & Cruising - Vladivostok to St Petersburg - 27 Days

Cruising & Trans-Siberian - St Petersburg toVladivostok - 28 Days
Cruising & Naadam Festival - St Petersburg to Ulaanbaatar - 26 Days


EUROPE RIVER CRUISING

Indulgent Onboard Experience

Wonders of Scandinavia & Magnificent Europe - 29 Days

Baltic Treasures & Magnificent Europe - 25 Days

This brochure covers the regions and holiday types listed below. Click on the links to see more free travel brochures covering the regions and holiday types you are interested in.